"Few decisions are as important—and potentially life-changing—as choosing a school for your children."
Adventist Christian Academy
2700 Lisenby Ave., Panama City, FL 32405 (Map)
Welcome to our Website! ACA is an accredited K-8th grade school. We accept STEPUP/EMA scholarships. These scholarships are open to everyone, and you can apply at stepupforstudent.org.
Currently, we have a few openings in  our 3-5th grade classrooms.
We offer small class sizes, art, music, PE, a variety of learning activities, technology, and  field trips as well as promote Christian values. If you would like more information, please contact us at 850-769-3405 or 205-527-4403. 
Registration Information
for 2023-2024 School Year
The following must be submitted for registration.
NEW STUDENTS:
-Birth Certificate
-Immunization Record (DH form 680)
-Updated medical check-up
-completion of all registration forms
RETURNING STUDENTS:
-Fourth Graders – updated medical check-up
-Seventh Graders – Updated immunization record
-completion of all registration forms
Adventist Christian Academy is a Christian elementary and middle school located in Panama City, Florida.
ACA is a well-established school, offering dynamic Christian education to students in kindergarten through eighth grade. We added  a third teacher this year for our K-2nd graders!  Our students benefit from a multi-age environment, small class sizes, and a balanced program of academic standards, physical activities, and spiritual values.
Scholarships are available to qualifying families with students in grades K-8.  Apply at stepupforstudents.org.
We are a nationally accredited school. The Accrediting Association of Seventh-day Adventist Schools holds a membership with the National Council for Private School Accreditation (NCPSA).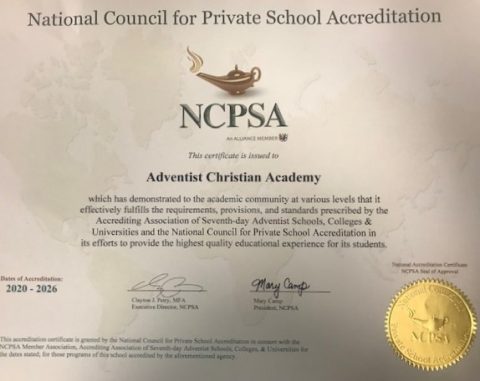 We invite you to learn more about Adventist Christian Academy by exploring this website or stopping by for a tour. Please feel free to Contact Us with questions, or to schedule a school tour today!